Sweet Gluten-Free Desserts Perfect for Any Valentine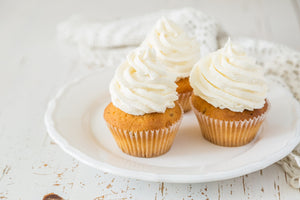 Your Valentine is special, there's no denying it! At Cappadona Ranch, we know that your Valentine deserves a healthy date-night dessert that's just as wholesome as they are. To help our neighbors in McAllen have a lovely Valentine's, Pal-entine's, or Gal-entine's Day this February, we've found two perfect recipes for any type of Valentine.
Check out Cappadona Ranch's favorite gluten-free, delicious desserts below, and keep your gut as happy as your taste buds this February by using our Mesquite Bean Flour to bring out the rich flavors of your bakes. 
The Chocolate Lover: Rich Mesquite Chocolate Cake
This yummy, classic chocolate cake is perfect for those Valentines who can't get enough of chocolate — and eating healthy! Nutritious Mesquite Bean Flour rings out the notes of rich chocolate in this dessert, and you can bump it up another level by adding gluten-free chocolate chips or chopped nuts.
The Ingredients
2 cups and 3 tablespoons of Mesquite Bean Flour, separated

1 cup unsweetened almond milk

2 cups sugar

1 cup canola oil

¾ cup baking cocoa

¼ cup chia seeds

¼ cup ground flax seeds

4 teaspoons vanilla extract

2 teaspoons baking powder

1 teaspoon salt

1 to 2 teaspoons instant espresso powder

1 ½ baking soda

½ teaspoon xanthan gum

Confectioner's sugar

1 cup boiling water
The Bake
Preheat your oven to 350°. Prep a 10 in. fluted tube pan with grease and flour using the separated 3 tablespoons of our Mesquite Bean Flour.

Combine what's left of the flour, sugar, cocoa, flaxseed, chia, baking powder, baking soda, salt, espresso, and xanthan gum in a large bowl and whisk.

In a separate bowl, combine the water, oil, vanilla, and almond milk until blended.

Gradually, add the dry mix to the milk mixture, beating steadily. Transfer the beaten mix to your prepped pan.

Bake your cake for 50-55 minutes, until a toothpick inserted into the center of the cake comes out clean. Cool cake in the pan for 15 minutes before flipping onto a wire rack to fully cool.

Prior to serving, dust your cake with the confectioner's sugar.
The Sweetheart: Gluten-Free Vanilla Cupcakes
Your special sweetheart deserves a treat as sweet as they are. For Valentines with classic tastes and a sweet tooth, these gluten-free vanilla cupcakes make the perfect holiday dessert. You can even make decorating your cupcakes with sprinkles and chopped nuts into a fun part of your romantic evening.
The Cake Ingredients
2 ½ cups Mesquite Bean Flour

⅔ cup butter, softened

2 large eggs, room temperature

1 ¾ cup sugar

1 ¼ cup 2% milk

2 ½ teaspoon baking powder

½ teaspoon salt

½ teaspoon xanthan gum
The Frosting Ingredients
3 cup confectioner's sugar

½ cup butter, softened

8 ounces (1 package) cream cheese, softened

1 to 2 tablespoons 2% milk

2 teaspoons vanilla extract
The Bake
Preheat your oven to 350°. Prep 24 muffin cups with paper liners.

Cream together the butter and sugar in a large bowl until fluffy and light. Add eggs to the blend one at a time, beating well. Beat in vanilla.

In a separate bowl, whisk together flour, salt, xanthan gum, and baking powder. Add dry mix and milk, alternating and beating well after each addition of the mixes.

Pour mix into lined cups, filling up to ¾ full. Bake the cakes until a toothpick inserted into the center comes out clean, usually 15 to 20 minutes. Let cool in pans for 10 minutes before removing the cakes to a wire rack to fully cool.

To make the frosting, beat together the butter, vanilla, confectioner's sugar, and cream cheese until smooth, in a large bowl. Add milk to the mix, beating steadily, until your preferred consistency is achieved. Refrigerate frosted cupcakes.
Make Your Valentine's Health as Happy as Their Taste Buds with Mesquite Bean Flour Bakes
Planning the perfect Valentine's Day can feel like a minefield, but with these nutritious and delicious Mesquite Bean Flour Bakes, you can't miss! Make a fancy dessert surprise, or plan an evening of baking together to make this Valentine's Day one to remember.
No matter what time of year, Cappadona Ranch has your back with gluten-free baking solutions made possible by our superfood, Mesquite Bean Flour.
Visit our website or call us at (956) 867-1819 to purchase our Mesquite Bean Flour for your baking necessities!