Brewing Your Own Delicious Texas Mesquite Bean Coffee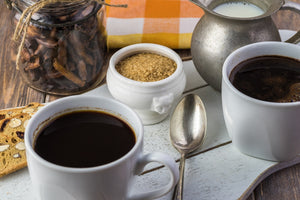 Whether you're a fine-coffee connoisseur or a brand-name loyalist, we here at Cappadona Ranch are challenging you to try a new, yummy coffee alternative: mesquite bean coffee. We're betting this classic taste of Texas will perk up your taste buds — without the classic coffee heartburn!
Check out the basics of our Mesquite Bean Coffee, and enjoy the sweet flavors that the Rio Grande Valley has to offer.
Mesquite Bean Coffee: The Perfect Blend
Long harvested in the region for their use in baking, mesquite beans have come to be used by native farmers for all sorts of tasty treats: from jellies and flour to teas and, of course, coffee! Mesquite bean coffee offers a rich alternative to caffeinated coffee, without sacrificing its uplifting boost. This makes it a great option for those with acid reflux or other similar dietary concerns. 
Many of us struggle through the heartburn of a cup of coffee just for that hot morning pick-me-up. The good news is, you don't have to get an upset stomach in order to enjoy a delicious cup of joe! 
Mesquite bean coffee is produced from the dried bean pods of mesquite trees, but it provides a bold flavor relative to that of traditional coffee. Plus, this delightful hot drink is a fantastic healthy alternative due to its high-fiber and low-sugar content. 
One sip is all you'll need to start ditching all your old coffee beans for Cappadona Ranch's Mesquite Bean Coffee.
The Best Ways to Enjoy a Piping Hot Cup of Mesquite Bean Coffee
Believe it or not, you can actually harvest, grind, and brew your own homemade mesquite bean coffee! First, you'll need to harvest the beans from a mesquite tree, not the ground, before the first summer rain. Then, rinse and dry them. Bake them in the oven until they smell fragrant and almost burnt. Finally, grind and brew your coffee as usual.
For those of us who don't have a mesquite tree in our front yards, however, there's another way to get that rich mesquite bean flavor: Cappadona Ranch's own Mesquite Bean Coffee. 
Coffee lovers keep in mind: Cappadona's Mesquite Bean Coffee packs three times more coffee per ounce than regular coffee!
For the tastiest cup of joe around, we recommend filling your coffee filter between ¼ to ½  full of mesquite bean coffee grounds per 12 cups. Keurig owners rest assured: mesquite bean coffee works just as well in these machines! Simply fill your reusable Keurig cup with ½ tablespoon of mesquite bean coffee grounds, and brew!
Once your coffee is brewed, you can drink it black or add extra cream and flavoring, just like you normally would. Mesquite bean coffee pairs particularly well with honey and milk, but the natural fructose content also gives the coffee sweetness and a natural boost.
Stock Up on Some Cappadona Mesquite Bean Coffee to Warm Up Your Mornings and Boost Your Diet!
Whether your diet is gluten-free, low-sugar, or if you're simply dedicated to eating healthy, mesquite bean products are a must. 
From our nutritious, diabetic-friendly Mesquite Bean Flour to our rich, fruity Mesquite Bean Jelly, Cappadona Ranch has all the classic tastes of Texas you and your stomach will love!