Gluten-Free, Pecan Pie Cheesecake That's Love at First Bite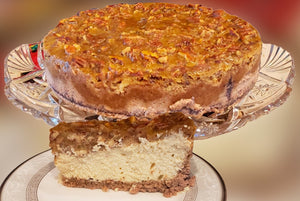 Gluten-Free, Pecan Pie Cheesecake That's Love at First Bite
If you read the phrase, "healthy, gluten-free, and low-sugar" in front of "pecan pie cheesecake," you might be thinking that it sounds too good to be true. But you know what? Gluten-free healthy foods can be just as--if not more--yummy as the sugary-sweet, carb-loaded stuff, granted if you have the right ingredients.
We're talking about Cappadona Ranch's Mesquite Bean Flour!
Naturally sweet, this delicious superfood not only packs in plenty of nutrients like protein, fiber, and calcium into every bite, it also brings out great flavors like cinnamon, nutmeg, chocolate, and vanilla, making it the perfect addition to just about any dessert bake. 
Check out our recipe for a tasty treat that will leave your gut as happy as your taste buds this Valentine's Day: Cappadona Ranch's Pecan Pie Cheesecake.
Here's What You Need
Patience is a virtue in any setting, but when it comes to making a cheesecake, no truer words have ever been spoken. The key to a fantastic pie lies in the ingredients and in technique, so be sure to take special care preparing your bake so that the rest of the process can go smoothly.
But first, gather the following:
Crust Mix
1 cup pecans, ground

¼ cup granulated Erythritol

or

Swerve

or

Allulose

1 cup almond flour

4 tbsp melted unsalted butter

4 tbsp coconut flour

½ tbsp cinnamon powder

½ tsp vanilla extract
Filling Mix
1 tbsp vanilla extract

1 tsp baking powder

3 large eggs, room temperature, lightly beaten

2 ½ cups cream cheese, softened

⅓ cup granulated Erythritol

or

Swerve

or

Allulose

¼ tsp salt

½ cup sour cream, room temperature

1 tsp cinnamon

¼ cup heavy whipping cream
Pecan Topping
2 large eggs

⅓ cup brown sugar substitute such as Swerve

or

Allulose

2 cups coarsely chopped pecan

1 tsp xanthan gum

½ cup unsalted butter

4 tbsp sugar-free maple-flavored syrup such as Lakanto

or

Yacon Syrup

¼ tsp sea salt

½ cup heavy whipping cream
Baking Your Perfect Pecan Pie Cheesecake, Cappadona Style
Preheat oven to 320°F. Adjust oven rack to middle of oven.

Using parchment paper, line the inside of a 9-inch springform pan. Wrap the outside of the pan in two layers of aluminum foil.

To make the crust, combine the dry crust ingredients in a food processor. Then, mix in the vanilla extract and butter. Finally, pour the mixture into the prepped 9-inch springform pan, pressing the mix into the bottom of the pan and at least halfway up the sides. Refrigerate your crust for 20 minutes.

To make your filling, use a large mixing bowl and electric mixer set on medium-high to beat together the cream cheese and sweetener until they are creamy and smooth. Then, add the heavy cream, baking powder, Cappadona Ranch Mesquite Bean Flour, sour cream, cinnamon powder, salt, and vanilla. Beat the mixture until well combined. Then, add the eggs and beat until the mix is just combined.

Pour your filling over the crust, using a spatula to spread the mix evenly into the bottom of the pan.

In your oven, fill a deep baking sheet with boiling water. Place the cheesecake into the dish and bake for 40 minutes. Continue on with the instructions while the cheesecake is baking, but be sure to remove it from the oven once 40 minutes have passed.

Prepare the pecan topping by combining the butter, maple syrup, brown sweetener, and xanthan gum. In a medium saucepan, cook the ingredients over medium heat, stirring continuously until the mixture reaches a boil. Keep the mix boiling for 2 minutes before removing it to cool. 

For your topping ingredients, whisk the eggs, cream, and salt together and set aside. Whisk together the egg mixture and cooled syrup mixture until the two are well combined. Then, stir in the chopped pecan pieces.

Spread the pecan topping over the cake by spooning it gently onto the surface.

Put your cheesecake back in the oven; lower the temp to 300 °F; and bake your cheesecake until the top is crisp and golden brown, usually between 40 and 50 minutes.

After baking, cool your cheesecake completely on a wire rack. Once cooled, cover the cheesecake and refrigerate for at least 4 hours prior to serving it.

To serve your dessert, remove the springform shell. Run a knife under hot water to warm it. Then, carefully dry it before using it to cut the cheesecake.

Continue to reheat the knife under water and re-dry it before cutting the next slice.
Your tasty baked and chilled cheesecake will keep for up to 5 days covered tightly and stored in the refrigerator, or up to 2 months covered tightly and stored in the freezer. If you freeze your cheesecake before slicing it, let the slices sit at room temperature for at least 30 minutes before serving them.
Stay Healthy and Happy This Valentine's Day and Beyond With Cappadona's Mesquite Bean Flour
While it is easy to consider that the things we most enjoy are often bad for our health, it's a joy to find a dessert like this pecan pie cheesecake that is both nutritious and delicious! No matter if you're baking for one or planning a quarantine-bubble party, this dessert will be the cherry on top of any meal.
Whether you're gluten-free, looking for low-sugar solutions, or just interested in baking a flavorful and healthy meal, Cappadona Ranch has you covered with our Mesquite Bean Flour.