4 Spooky Recipes You Can Do at Home During the Halloween Weekend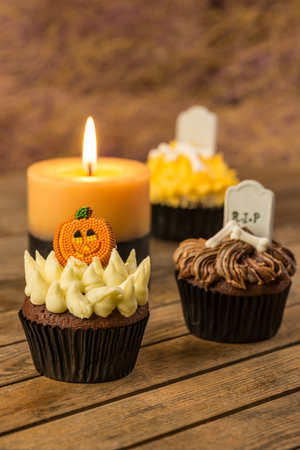 Halloween 2020 is sure to be a memorable one. While we can't trick-or-treat or have large parties like some are used to doing, there are great traditions you can begin with your loved ones right at home! From DIY costumes to elaborate pumpkin carvings, we've seen our communities' creativity jump out in this season.
We know many of you also discovered a new love for baking while we've spent more time at home, and this Halloween, Cappadona Ranch has some great ideas for Halloween recipes. Using our delicious Mesquite Bean Flour, these recipes are gluten-free, spooky, and delicious.
1. Ghoulish Graveyard Halloween Cupcakes
A simple recipe we love is Graveyard Halloween Cupcakes. First, bake your chocolate cupcakes using Cappadona Ranch Mesquite Bean Flour. This tasty treat enhances the flavors of cinnamon, nutmeg, chocolate, and vanilla - perfect for cupcakes.
If using a traditional recipe, we recommend 1/4 to 1/2 of our mesquite bean flour for every 1 cup of other flour in your recipe. Then, top the baked cupcakes with chocolate frosting. Crumble some chocolate cookies or wafers to make the "dirt."
You can print out "tombstones" with this free template and attach them to lollipop sticks or toothpicks. For an extra touch, add a gummy worm crawling out!
2. Your Family Will Quake With This Great Pumpkin Piñata Cake
For a little more of a challenge, try this Great Pumpkin Piñata Cake. This recipe will bring a surprise factor to your family and is a great way to use our Mesquite Bean Flour, a superfood that is high in all the right nutrients.
The trick to getting this cake to look like a pumpkin is the pan. You can find a great 3-D pumpkin pan online or use a two-ridged Bundt pan. Just make sure to not use a Bundt pan with a hole in the middle. Pro tip--for this cake, a no-stick spray will be your best friend!
Start off by preheating your oven to 350 degrees and mix together your favorite scratch recipe for Pumpkin Cake. Pour half of the batter in each pan and insert into the oven. It should bake in 35-40 minutes based on the size of your pan. It's ready when the top is golden and a toothpick comes out clean.
Allow your cake to cool on a cooling rack, rather than in the pan. While the cake's baking, you can prepare a Vanilla Glaze or Chocolate Ganache. (Store-bought works here, too!)
Here's where the fun starts! Place both the top half and bottom half of your pumpkin cake decorative side down, and create a one inch indentation in the middle of each. Grab your candy mix and pour into the bottom half, creating a nice mound.
To help seal the cake, spread a layer of chocolate ganache (or frosting) along the flat edge of this half. Then, gently place the other half on top, matching the outside patterns together. Lastly, drizzle your ganache, glaze and/or melted frosting from the top and let it drip down the cake. Add any sprinkles, if desired.
Once all your toppings are cool and set, serve your cake in front of everyone to show the sweet surprise!
3. Fun With "Toxic Waste" Jello Cups
With little ones, the easiest and simplest recipe is always the best! These Toxic Jello Waste Cups require just three ingredients - or four if you're feeling a little extra this season. The first recipe is of course - jello! You can make about eight cups with a six ounce box.
After you prepare the jello as described on the package, pour half a cup into each clear plastic cup. Then, place one or two gummy worms in each cup.
Next, leave the jello cups in your refrigerator to cool for four hours. Once chilled, add whipped cream to the top and finish with a gummy worm topping. To add something extra, and if you have it on hand, top with green sanding sugar or sprinkles just before serving!
4. Hear Us Out: Candy Corn Chicken Quesadillas
Before you let the name Candy Corn Chicken Quesadillas scare you, remember that looks and taste don't always match! After all, Halloween is all about getting spooked, and this simple savory dish might just fill up the kids enough to not eat all their candy in one night. Rest assured, however, that there is no actual candy corn in this dish.
Start by preheating your oven to 350 degrees, and cut your corn tortilla into a triangle, leaving the bottom round and uncut. Try to make a pair for each one. Next, combine and mix your favorite salsa and sour cream in a small bowl.
In a medium mixing bowl, combine some roasted chicken, green chilies, and salsa/sour cream mix. Stir completely, and use salt and pepper to taste. (You can also use any other ingredients to fill your quesadilla, if preferred.) Place one side of a pair of cut tortillas on a baking sheet and spoon 1/3 cup of your mixture onto the tortilla; spread evenly. Then, place the corresponding tortilla on top.
Using kitchen scissors or a knife, cut some of your favorite white, light orange, and dark orange-colored cheeses to cover the tortillas in the traditional candy corn pattern; light orange cheese at the top, dark orange in the middle, and white at the tip. Bake your quesadillas until the cheese is completely melted, which should be about five minutes.
Try not to over bake, as the cheese could become runny. Once they're out of the oven, trim the sides of extra cheese. Serve and enjoy!
From Cappadonna Ranch, Have a Happy and Safe Halloween!
As we enter this Halloween weekend, we hope these fun recipes and our Cappadona Ranch Mesquite Bean Flour will become a staple in your household!
A naturally sweet option that's high in all the right nutrients including fiber, protein, and calcium, we know you'll love it at first taste!
Visit our website today and shop for this season's mesquite bean flour to incorporate into your baking routine, and from our family to yours, Happy Halloween!