3 Gluten-Free Recipes That'll Wow Your Family Members This Thanksgiving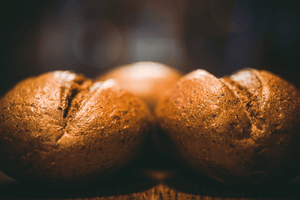 The year has flown by, and we're already breaking out the recipe books for our classic Thanksgiving feasts! From the turkey main course to the copious sides, most families have their traditions set. However, a third of Americans try to avoid gluten, with more and more knowing about gluten-intolerance and the benefits to removing gluten from their diet.
With Cappadona Ranch Mesquite Bean Flour, you can easily turn your favorite dishes gluten-free. Naturally sweet and diabetic friendly, Mesquite Bean Flour is sure to become a staple in your kitchen this holiday season.
Pass the Rolls
A Thanksgiving plate without a roll on top just isn't right. This recipe will give you fluffy, yummy gluten-free rolls for the big day. You will need to plan in advance with the specific ingredients needed, but we guarantee it'll be worth it!
First, gather your ingredients:
2 1/4 tsp. dry yeast
1/2 tsp. granulated sugar
1/2 cup milk
55 grams White rice flour (about ⅓ cup)
50 grams Brown rice flour (about ⅓ cup)
65 grams Arrowroot flour (about ½ cup)
30 grams Tapioca flour (about ¼ cup)
16 grams Mesquite Bean Flour (about 2 tbs)
1 1/2 tsp. Xanthan gum
1 tsp. aluminum-free baking powder
1/2 tsp. fine sea salt
2 tbs. honey
1 large egg, room temperature
3 tbs. avocado oil
3 tbs. butter
Start by preheating your oven to 350 degrees and grease an 8x4 inch loaf pan with one tablespoon of butter. Set aside. Next, add the yeast and granulated sugar to a stand mixer bowl. Slowly pour in the milk, making sure the yeast is moistened. Let the mixture sit for at least 15 minutes to "bloom."
Add the dry ingredients (white rice flour, brown rice flour, Arrowroot, tapioca flour, Mesquite Bean Flour, xanthan gum, baking powder, and salt) to a medium bowl. Whisk to combine completely.
After your yeast has bloomed, add the honey, egg, and avocado oil. You can use the paddle attachment on your mixer at medium low speed until combined. Then, add the flour mixture and mix on low until combined. Stop the mixer, scrape down the bowl, and mix again on medium for about one minute.
Use a spatula to scrape the sides of the bowl to form into a ball. Turn the dough ball out on a well-floured surface, sprinkle the top of the dough with a little more Mesquite Bean Flour, and use a knife to cut the dough into eight equal pieces.
Using well-floured hands (did we mention this recipe loves Mesquite Bean Flour?) roll each piece of dough into a ball. If you squish or flatten the dough in your hands, then roll into a ball, we find there's better results. Next, place the dough ball in your prepared baking pan and repeat for each ball. Remember to dust your hands with flour each time!
Allow your dough to rise in a warm spot, covered loosely with plastic wrap or a clean kitchen towel, for one hour. After rising, brush the tops of each roll with melted butter and bake for 20-24 minutes. After baking, remove from the oven, brush with melted butter once warm, remove from the pan, and serve warm!
A Family Favorite: Green Bean Casserole
Not to take anything away from the turkey, but this tried and true, gluten-free green bean casserole just might steal the show this Thanksgiving. You can follow this recipe step-by-step or use any your family already enjoys, substituting the flour blend and friend onions with Cappadona Ranch's Mesquite Bean Flour.
Gluten-Free Flour Blend:
435 grams (3 cups) white rice flour
128 grams (1 cups) Mesquite Bean Flour
123 grams (3/4 cup) potato starch
8 grams (1 tbs) xanthan gum
5 grams (1 1/2 tsp) salt
In a large bowl, whisk all ingredients together. Set aside.
Fried Onions:
Butter or gluten-free cooking spray for greasing
Canola oil for frying
1/4 cup crushed gluten-free rice cereal
1 tsp. salt
1 large onion
First, slice the onion into thin rings. In a small bowl, whisk together the cereal crumbs and salt with 1/4 cup Mesquite Bean Flour. Then, add the sliced onion rings and toss to coat evenly Working in batches, fry until golden brown and lightly crisped, three to five minutes. Line a plate with paper towels and transfer the onions to the plate to drain.

Green Bean Mix:
Salt and pepper
1 lb. trimmed green beans
2 tbs. unsalted butter
8 oz. sliced mushrooms
3/4 cup chicken broth
3/4 cup heavy cream
1/2 tsp chile powder
First, prepare a large bowl of ice water. Bring a medium saucepan of salted water to a boil and add the green beans. Cook about two minutes, until crisp-tender, then strain immediately and place into the ice water. Set green beans aside.

Now it's time to bring all the ingredients together! In a large skillet, melt the butter over medium-high heat. Add in the mushrooms and cook, stirring occasionally, until the liquid has evaporated. Next, season with salt and pepper, sprinkle a little over two tablespoons of Mesquite Bean Flour, and cook for about one minute, stirring occasionally.
Stir in the broth and cream, bring to a simmer and cook about four minutes, until thickened. Next, stir in the green beans and season with the chile powder, salt, and pepper to taste. Transfer to a prepared baking dish and top with the fried onion rings. Last, bake until golden brown and bubbling, about 25 to 30 minutes. Serve immediately and enjoy!
Easy as Pie
Finally, we come to dessert! Pumpkin pies are pretty much synonymous with Thanksgiving, and with Cappadona Ranch Mesquite Bean Flour, you can go back for a second slice with no worries! This flour enhances the flavors of cinnamon and nutmeg, making it the perfect addition to this classic dessert.
Gluten-Free Crust (Makes two 10-inch crusts):
3 cups Mesquite Bean Flour
1/2 tsp. salt (omit if using unsalted butter)
2 tsp. xanthan gum
1 cup cold butter (about 2 sticks)
8-10 tbs. cold milk (or dairy-free milk)
In a medium mixing bowl, combine flour, salt and xanthan gum. Cube butter in sizes resembling small peas and cut into the flour. Add milk and use your hands to work the milk into the dough until all ingredients are combined to form a dough ball.
Divide the dough in half and roll each ball between two pieces of wax paper. Place one piece into the pie pan, then pinch and shape the crust to your desired design. Before adding the filling, bake your crust for 15-18 minutes at 425°F.

Pumpkin Filling (Makes one pie):
1 (15 ounce) can pumpkin puree
1 (14 ounce) can sweetened condensed milk
2 large eggs
1 tsp. ground cinnamon
1/2 tsp. ground ginger
1/2 tsp. ground nutmeg
1/2 tsp. salt
Whisk all ingredients in a medium bowl until smooth. Pour into your gluten-free crust. Cover the sides of the crust with aluminum foil and bake 15 minutes at 425°F. Then, reduce the oven temperature to 350°F, remove the foil, and continue baking 35 to 40 minutes or until an inserted knife comes out clean. Cool before serving.
Note: The second crust can be used to make a second pie, or you can add some fun by cutting out leaves and designs to bake on top of your crust. See some examples here.
From the Cappadona Ranch Family to yours - Happy Thanksgiving!
A Superfood that gives you an energy surge, Mesquite Bean Flour might even help you avoid that post-turkey coma nap and enjoy some more quality time with your loved ones. Whether you choose to add in some Mesquite Bean Flour to your traditional recipes, or start new traditions with these recipes, we hope you have a tasty, healthy Thanksgiving!
Bake and share these gluten-free recipes with your family this coming Thanksgiving, and if you are running low on Mesquite Bean Flour, find a retailer near you or order online today!