Mesquite Bean Power Bars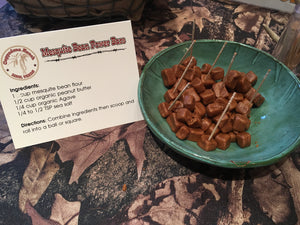 Easy to make and even better to eat, these delicious treats are just what you need to make it through the day. Let your creativity shine by playing with the ingredients to match your tastes. Just remember to keep the ratios the same.
Ingredients:
1 cup mesquite bean flour
1/2 cup organic peanut butter
1/4 cup organic agave
1/4 to 1/2 teaspoon sea salt


Directions:
Gather ingredients in a large bowl.
Mix well until all ingredients are properly blended.
Scoop or roll mixture into balls or squares.
Allow to set for an hour or so.
Note: Add a teaspoon of water to soften the mixture.