Mesquite Shrimp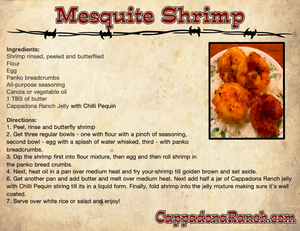 Ingredients:
Shrimp rinsed, peeled and butterflied
Flour
Egg
Panko breadcrumbs
All-purpose seasoning
Canola or vegetable oil
1 TBS of butter
Cappadona Ranch Jelly with Chilli Pequin
Directions:
1. Peel, rinse and butterfly shrimp
2. Get three regular bowls - one with flour with a pinch of seasoning, second bowl - egg with a splash of water whisked, third - with panko breadcrumbs.
3. Dip the shrimp first into flour mixture, then egg and then roll shrimp in the panko bread crumbs.
4. Next, heat oil in a pan over medium heat and fry your shrimp till golden brown and set aside.
6. Get another pan and add butter and melt over medium heat. Next add half a jar of Cappadona Ranch jelly with Chilli Pequin stiring till its in a liquid form. Finally, fold shrimp into the jelly mixture making sure it's well coated.
7. Serve over white rice or salad and enjoy!