Rio Grande Pork Loin Chops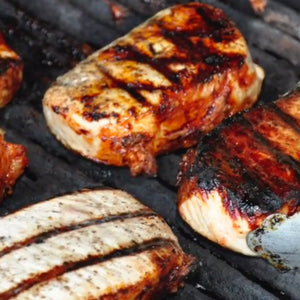 This recipe is delicious! It goes great over salad, vegetables or a side baked potato! The taste of  mesquite bean jelly with apples makes this Rio Grande summer recipe light and refreshing!

 

Ingredients
5 pork center loin chops or 5 bone-in pork chops
5 Granny Smith apples chopped (substitution: 2 cups of pairs or pineapple)
8 tablespoons butter
5 tablespoons olive oil
1 jar of Cappadona Ranch Mesquite Bean Jelly with or without chilli pequin Salt and pepper to taste

 
Directions
1. Season pork with salt and pepper
2. Melt butter in skillet with olive oil over medium heat for stove stop.
3. Cook pork loin turning to cook all sides evenly or grill outside on barbecue pit . They will be ready when the thermometer registers at a temperature of 145F.
4. Remove pork loin from skillet or barbecue pit and place in the oven to keep warm.
5. In the same skillet or new skillet over medium heat sauté apples and jelly until reduction has formed.
6. Remove pork pork from oven and spoon mesquite jelly with apple reduction on top of each one and service.