Easy Breezy Pork Shoulder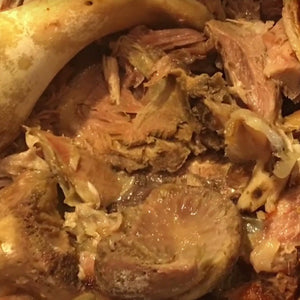 Large crockpot
One pork shoulder
1/8 Cup All-purpose seasoning
32 oz. Beef stock
1/4 CupDried onions
1 Tablespoon Minced garlic
1 Teaspoon Chile Pequin (optional)
3 Tablespoon Corn starch
1/4 cup milk
Salt and pepper to taste


Place pork shoulder in a large crockpot.
1. Add all-purpose seasoning, Beef stock dried onion, minced garlic and chile pequin.
2. Close and set your crockpot on high and leave it alone for 8 to 10 hours or overnight.
3. Take your pork shoulder out and place in a Pyrex casserole dish or cookie sheet with the lip. Set aside.
4. Pour the pork gravy into a pot.
5. Mix 3 tablespoons of cornstarch and 1/4 cup of milk then pour into the gravy. Cook over medium to high heat until it boils and thickens.
6. Debone your pork shoulder and pour chosen amount of gravy over and serve.