Semi-Boneless Lamb Loin with Garlic Mesquite Bean Jelly Sauce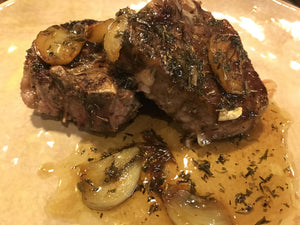 INGREDIENTS

2lb Lamb Loins
Salt and Fresh Ground Pepper
1//2 teaspoon thyme
4 tablespoon extra-virgin olive oil
10 garlic cloves - halved
1/8 cup water
Juice of 1 lemon
2 tablespoons dried parsley

DIRECTIONS

Season the lamb with salt and pepper and sprinkle lightly with thyme. In a very large skillet, heat the olive oil until shimmering. Add the lamb and garlic and cook over medium/high heat until the chops are browned on the bottom, about 3 minutes. Turn the chops and garlic and cook until the chops are browned, about another 3 minutes. Transfer the chops to plates, leaving garlic in the skillet.

Add the water, lemon juice, parsley and half a jar of Cappadona Ranch Mesquite Bean Jelly with or without Chilli Pequin and cook scraping browned bits stuck to the bottom. Let simmer for about 3 minutes. Pour sauce over the lamb chops and serve immediately. Enjoy!!!