Living a Healthier 2021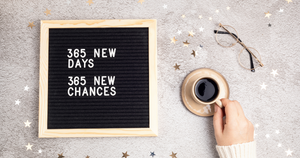 Our New Year's resolutions tend to revolve around a similar topic; doing something more or better. We want to eat healthier, exercise more often, learn to meditate, begin volunteering, read more books, and so much more.
Our New Year's Resolutions can become highly difficult to follow though. In fact, 80% of Americans drop their New Year's resolutions by February. 
At Cappadona Ranch, we know one New Year goal that can not only be easy, but fun as well! We've seen firsthand the benefits of a natural / healthy lifestyle, and our mesquite bean products can help you stay on track throughout 2021.
Why Do You Want to Avoid Gluten?
Gluten is a type of protein found in wheat, barley, rye and other breads. It has also found its way into many processed foods. Unfortunately, gluten can cause an immune reaction in some individuals. 
Up to 1% of people worldwide suffer from celiac disease. This autoimmune disease mistakes gluten as a threat and the body attacks the protein, as well as surrounding areas. This leads to nutrient deficiencies, severe digestive issues and anemia, as well as increasing the risk of many harmful diseases.
Up to 13% of people are believed to have non-celiac gluten sensitivity. While they don't test positive for celiac disease, they still feel uncomfortable or have certain digestive issues when eating gluten. 
Celiac disease is not easy to self-diagnose, so a visit to your doctor will give you the best information on what gluten means for your body.
How Can Cutting Gluten Improve My Health?
There's a bit of detective work once you decide to cut gluten from your diet. Gluten is found in many processed foods, and even salad dressings and some supplements. An easy way to ensure you are eating gluten-free is eating whole foods such as meats, fruits, and vegetables for starters.
It's important to keep in mind that replacing certain foods with their gluten-free alternatives won't always mean a difference in calories.
One way to know exactly what you're consuming is by cooking with your own products, such as Cappadona Ranch's Mesquite Bean Flour. Naturally sweet and diabetic-friendly, mesquite bean flour is high in all the right nutrients including fiber, protein, and calcium. This is great news, as fiber deficiency can become common when gluten is removed from diets. 
Eating healthy foods that replenish these nutrients is a win-win!
Don't Forget Your Emotional Health.
While eating healthy and listening to your body's responses to food are great, another way to live out a healthy 2021 is taking care of your emotional health. As 2020 was a difficult year for many of us, there are a few things you can do to make the next year better.
Incorporating exercise weekly, even for a brisk walk, will bring proven health improvements to your body and mind. Reading a book and listening to music can help you escape in thought for a bit. Take some time this year to write down what brings peace and calm into your life - then get started adding them to your routine!
Make It a Social Event!
21% of people with celiac disease avoid social events because they believe they won't be able to stick with their gluten-free lifestyle. They also want to avoid the many questions from those who don't know what gluten-free means just yet. We encourage you to plan ahead! Look up the menu beforehand to see if there are gluten-free options or suggest places you know have great gluten-free menus.
You can also create a meal from one of Cappadona Ranch's recipes to share. It'll be a great way to know you're eating a healthy meal, while showing others the benefits and delicious taste of mesquite bean flour. 
Cappadona Ranch Wishes You an Amazing 2021!
Remember, living healthy is a process. Be patient with yourself and know that one "bad" day doesn't mean you've failed at your goal. Our mesquite bean products and recipes are a great place to start your natural / healthy lifestyle! We know they'll make this change easy and fun.
Visit our website or call us at (956) 867-1819 for more information and products. From the Cappadona Ranch Family to yours - have a healthy and happy New Year!