2020 Was Rough On Texas Mesquite Too!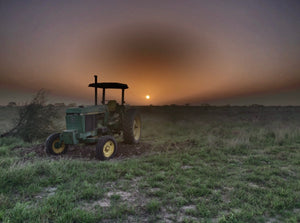 2020 has undeniably been a rough year, not just for the economy, families, teachers, and small businesses, but also for farmers and Texas mesquite! In late July, tropical storm Hanna developed into a Category 1 hurricane, which ended up rocking the Texas Gulf Coast and the Rio Grande Valley with severely high winds and widespread rainfall.

The first hurricane of the 2020 Atlantic season initially made landfall with 90 miles per hour winds in the Rio Grande Valley along the Cameron-Willacy county line. Preliminary reports suggested regions of the Rio Grande Valley and Coastal Bend got anywhere from roughly two to 15 inches of rain.

Even though this storm was only a Category 1, damages were widespread, even more so than some storms in the past. In our particular neck of the woods, all of that rain saturated mesquite beans throughout the region, producing mold in some of the beans. On top of that, winds blew some of them away during a time they were still growing.

Along with everything else 2020 has thrown at us, the storm had a strong impact on this year's harvest, and as a result, our mesquite bean supply is limited; however, that doesn't mean that you can't enjoy Cappadonna Ranch's Mesquite Bean Flour in your next baking project.
The Toll the Weather Took On Our Mesquite Trees
Mesquite has various characteristics that help it survive:
It adapts to practically any soil that isn't soggy.
Mesquite beans can lie dormant for years—some say up to 40 years—waiting for the right conditions for sprouting.
But with heavy rainfall, the trees and beans cannot properly thrive. The beans, which mature in late summer, develop in a pod between four and nine inches long. When ripe, the beans are covered by a sweetish coating, which has a sugar content as high as 30%.
Mesquite Trees, and Their Beans, Are Resilient
Mesquite trees were part of the Texas landscape long before Spanish explorers. In the early 1500s, these explorers first recorded discovering them. The trees could be found primarily along Texas' rivers and creeks but also completely covering some prairies. What has increased since then isn't the range, but the density.

Further back into history, certain indigenious American tribes would move from place to place, trading with other tribes their goods for mesquite beans. For some of these people, it's believed that mesquite beans accounted for 20% of their diet at one point.

The point is, despite the recent terrible storm, mesquite trees--and their beans--are still a plentiful resource. Mesquite flourishes on at least one-third of the land area of the state--that is, on more than 56 million acres of Texas' 167.5 million acres of land, from the Rio Grande to the Panhandle and across Central, North Central, and much into West Texas. Mesquite grows in all regions of the state except the East Texas Piney Woods.

In fact, of all the mesquite in the U.S., 76% grows in Texas. So if you're worried that the recent hurricane will deprive you of the slightly sweet sensation that is Mesquite Bean Flour, don't be. We've got you covered.
2020 Can't Stop Us From Making the Mesquite Products You Love
Despite the uncertain times we are living in, Cappadonna Ranch is committed to providing you the best gluten-free, organic flour alternative to regular wheat flour, but that's not all that we do. We also offer roasted Mesquite Tea, Mesquite Bean Jelly, and Mesquite Bean Jelly with Chilli Pequin if you're looking to spice things up.

There's a lot that goes into harvesting our mesquite trees, and even though this year has been rough, we still want you to be able to take advantage of the health benefits along with our mesquite beans' unique and delicious taste.
Our mesquite beans are in limited supply, so buy your Mesquite Bean Flour or other products we have now while supplies last.