Treat Your Skin Right in 2021 with Mesquite Bean Soap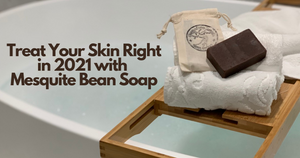 If there's one thing 2020 taught us, it's the importance of our overall health. From the foods we consume to the chemicals in the products we use and our personal hygiene habits, this past year showed us the importance of being mindful in all aspects of our daily health. 
Cappadona Ranch strives to provide safe, healthy options for residents of the RGV and beyond. Our Mesquite Bean Espresso Soap and Espresso Chocolate Soap are just some of the many ways we accomplish this goal!
The Importance of Reading Labels
If you take a look at the box of your soap bar or bottle, you'll find a lengthy list of ingredients. Difficult to pronounce and unfamiliar, there was a time most of us ignored these lists. But as society, in general, has begun to pay more attention to the products we put into and onto our bodies, many people are finding that there are unwanted chemicals in many of these things we use and consume on a daily basis. 
Below we discuss a few of these chemicals you should be aware of:   
Parabens

are a very common chemical found in products to preserve them for long periods of time.

Parabens

have the ability to penetrate the skin and remain in your body. Unaltered by metabolism, they instead mimic hormones and can disrupt the function of the natural hormones in your body.


Sodium Lauryl Sulfate (SLS) is the ingredient that allows soap to lather. While we might think lather means the soap is working, SLS is actually toxic if there is more than 1% concentration in a body product. It can also cause irritation of the skin and eyes, which makes a bubble bath seem much less appealing.


Triclosan

was

banned in 2017

by the Food and Drug Administration from many products, as there was no evidence that it is a safe chemical. However, this ban was limited due to the way products are regulated. If a product is labeled cosmetic, rather than over-the-counter, an FDA approval is not needed before being sold. 
Try the Natural Way
At Cappadona Ranch, our mesquite bean soap products not only offer a healthier alternative to traditional soaps, but our ingredients list is easy to read.
For example, our Espresso Chocolate Soap contains: olive oil, coconut oil, food-grade sodium hydroxide, Cappadona mesquite bean coffee, shea butter, raw goats milk, rice brand oil, cocoa butter, mango butter, castor oil, coconut milk, kaolin clay, fragrance oil, and soap colorant.
Let's break down the benefits of some of these ingredients.
Olive oil is no longer just for cooking! Olive oil provides vitamin A, D, K, and E to your skin. It also has antioxidant properties that help prevent or reverse damage from cancer-causing ultraviolet radiation. In fact, a study found that when olive oil was applied to mice that had been exposed to ultraviolet rays, the olive oil worked to fight off cancer-causing cells. Olive oil is also a great moisturizer that, when used on skin, has helped decrease acne by killing off bacteria. Bacteria-fighting and hydrating? Count us in!


Shea butter is fat that's been extracted from shea tree nuts. For those with skin redness or swelling, shea butter is a great anti-inflammatory. It has a high fatty acid content, which provides moisture for skin as well. A study from the American Journal of Life Sciences reports that shea butter boosts collagen production, or anti-aging properties, which reduce fine lines and help prevent stretch marks. 


Kaolin clay

is a great exfoliant for those with oily, acne-prone, or sensitive skin. It has a neutral pH level, which means it can be used in a variety of skin care products or for multiple skin types.

Kaolin is also a great cleanser

, removing unwanted oils, dead skin, bacteria, and other types of pollution from pores. As if that isn't enough reason to begin using Cappadona Soaps, kaolin clay also tones and tightens your skin, bringing circulation and a rejuvenated brightness. 


We could write a whole other blog on the benefits of coconut milk! Various acids found in coconut milk are known for anti-microbial and anti-inflammatory properties, which soothe and improve your skin barrier. It also helps maintain elasticity and flexibility in your skin, with its high level of vitamin C. Other vitamins found in coconut milk are E, B1, B3, B5, and B6 as well as iron, selenium, sodium, calcium, magnesium, and phosphorus. Lastly, dermatologists have recommended coconut milk as a moisturizing effect for dry skin conditions such as eczema, dermatitis, and psoriasis. We told you we loved coconut milk!
Back to Our Mesquite Roots
Of course, our soaps wouldn't be unique without our Cappadona Ranch Mesquite Bean Coffee! The natural smell of our roasted mesquite bean fragrance has hints of chocolate, caramel, vanilla, and burnt sugar. We can't think of a better pairing to give us a refreshing, relaxing bath or shower - either at the beginning or at the end of your day.
Pick some up for yourself or a loved one online today!
Visit our online shop or call us at 956-867-1819.