Why Mesquite Margaritas are the Perfect Cocktail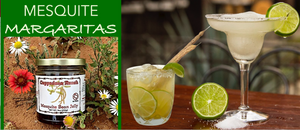 We dare you to try to say Mesquite Margarita without smiling — you can't. It's responsible for more romances than flowers and chocolate, has countless hit songs written about it and even has a theme park named after because margaritas are tasty fun in a glass. And though we wish there were a truck perusing through our neighborhoods blasting mariachi music while offering margaritas, we are not holding our breaths. So, we came up with a Mesquite Bean Margarita recipe you can make at home. But first, a little history about our favorite staycation treat. 
Like any good cocktail, the margarita has several people who lay claim to pouring the very first one. But one of the most accepted of several creation myths encompasses hope and perseverance in the face of a serious adversity: an alcohol allergy. The story is that Carlos "Denny" Herrara mixed up the first margarita for a Ziegfeld girl in his Tijuana restaurant in 1938, after she claimed to be allergic to all hard liquor but tequila. Figuring a straight-up tequila shot wasn't exactly first-class service, he went the extra mile to make it EXTRA sippable. Two words: NAILED IT!
With stars aligned and blenders churning, the margarita quickly ascended to America's favorite mixed drink. According to Nielsen, it's the go-to cocktail for 60% of Americans. Get this, we consume 80% of all exported tequila by drinking up margaritas while Mexico consumes less because they enjoy their sipping their tequila neat. And though Margaritas are often mistaken as deceptively simple with the classic three: tequila, lime juice and agave, they can get deliciously ridiculous with a just a teaspoon of extra FUN!
Inject a healthy shot of your favorite white or silver tequila
3 tablespoons of freshly squeezed lime juice
2 tablespoons of Cappadona Ranch Mesquite Bean Jelly
1 teaspoon of Grand Marnier orange liqueur
A splash of mineral water (Optional)
Rim the glass: Pour a thin layer of salt onto a small plate. Rub a lime wedge around the top edge of your glass to moisten it, then dip the glass into the salt so that it sticks, tapping all the way around. Fill the glass with ice and set aside.
For one drink: take 2 tablespoons of Cappadona Ranch Mesquite Bean Jelly and 1 tablespoon of lime and add to small saucepan over low heat stirring constantly. Bring the syrup mixture to a slight boil while stirring constantly. If the mixture is slick after heating stir and a teaspoon of water … 1 teaspoon at a time to achieve the desired consistency. Fill a small cocktail shaker with additional ice. Add the tequila, 2 tablespoons of lime juice, orange liqueur, mesquite bean syrup. Tightly close and shake vigorously. Strain into rimmed glass over ice and add a splash of mineral water (optional). Enjoy!