The WHOLE Enchilada Recipe!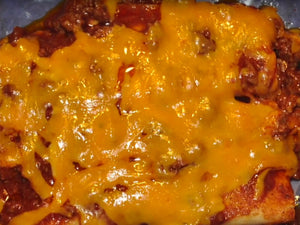 Ingredients:
1.5 pounds ground beef
1/2 TBS season-it-all
2 packages Lawry's Enchilada Sauce Seasoning
2 - 8oz cans of tomato sauce
2 cups of water
14 corn tortillas
24 oz sharp cheddar cheese graded

 

Directions:
1. Preheat oven 350 degrees.
2. Brown ground beef with season-it-all over medium heat then add in Lawry's Enchilada Seasoning, tomato sauce and water.
3. Cook over medium heat till it begins to boil then set aside.
4. Meanwhile, wrap tortillas in paper towel and heat in microwave for 1.5 minutes to soften so tortillas don't break when folding.
5. Add one ladle of enchilada sauce and spread over the bottom of casserole dish.
6. Dip each tortilla in the enchilada sauce and add a small amount of shredded sharp cheddar cheese and roll. Try only using 16 ounces of the sharp cheddar cheese to stuff tortillas and place folded side down. Pour remaining sauce over enchiladas then sprinkle remaining 8oz cheese. Bake for 15 minutes or until cheese melts. Enjoy!