Buenísimo Fish Tacos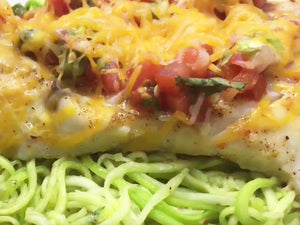 Ingredients:
8 - 10 ounces fresh fish fillet (Red snapper, trout, redfish, drum or flounder)
1 - 2 TBS Creole Seasoning
Extra-virgin olive oil
Juice and zest from one lemon
1/4 cup Italian Dressing
2 TBS butter
Pico de Gallo
Taco cheese shredded

Directions:
1. Rinse and pat dry your Fish fillets.
2. Add your creole seasoning on both sides of your fillets and place in casserole dish.
3. Add extra virgin olive oil on both sides of your fillets.
4. Add juice and zest of one lemon all over.
5. Then add about 1/4 cup of Italian dressing over your fish fillets
6. Slice 2 tablespoons of butter and spread over the top of your fish fillets.
7. Bake in the oven at 350 degrees for 10 to 15 minutes.
8. Take Fish out of the oven and add a healthy amount of Pico de Gallo over the top of each fillet.
9. Next sprinkle a healthy amount of shredded taco cheese over each fillet.
10. Place the fish fillets back in the oven for another 2 to 5 minutes or until cheese is melted.

Serve over salad pasta or vegetables. Enjoy!