Laguna Madre Fish Tacos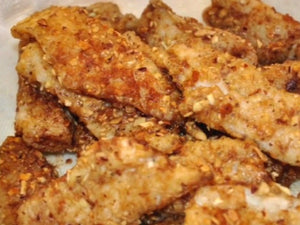 Ingredients:
8 - 10 ounces fresh fish fillet (Red snapper, trout, redfish, drum or flounder)
1 stick of butter
1 cup buttermilk
1/2 cup flour
1/2 cup toasted sliced almonds (optional)
1 TBS Creole seasoning
Salt and pepper to taste
1 lemon cut in half
South Texas Tartar Sauce:
1/2 cup mayonnaise
4 TBS + or - of your favorite hot sauce
3 TBS sweet relish
*Mix these three ingredients and done.

Directions:
1. Rinse fish and pat it dry. Put 3 to 4 tablespoons of butter in a non-stick skillet over low heat until butter turns a light brown color called buerre or "noisette," meaning like a hazelnut color.
2. Cut your fillets into bite size pieces. Season with salt and pepper.
3. Place butter milk in a bowl.
4. Place flour in a bowl with creole seasoning. Toast almonds then place in food processor and pulse several times. Add in to your flour mixture and combine.
5. Dip fillet pieces in buttermilk mixture then dredge and the seasoned flour and shake off excess flour.
6. Fry your fillet pieces in brown butter over a low heat until 1/2 to 3/4 done.
7. Turn fillet over to other side until light brown and crispy.
8. Placed cooked fillet pieces on a paper towel on plate or Pyrex and keep warm.