Simple-SUCCULENT Chicken Thighs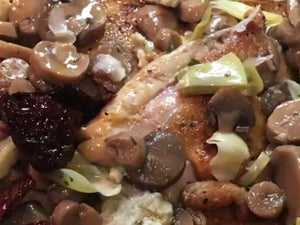 Ingredients:
6 to 9 chicken thighs
1/2 tsp salt
1/2 tsp pepper
1/4 cup olive oil
1 cup chicken stock
5 sprigs of thyme
2 - 6oz jar of sliced mushrooms with liquid
2 - 4.6oz jar of artichoke hearts with liquid
1 cup sun-dried tomatoes

 

Directions:
1. Rinse and pat dry your chicken thighs.
2.  Add salt-and-pepper on both sides
3. Add 1/4 cup of olive oil to a frying pan and heat for 6 to 10 minutes browning chicken thighs on each side.
4. Add ingredients mushroom, artichokes, sun-dried tomatoes and thyme.
5. Then transfer to a casserole dish.
6. Add juice from pan and chicken stock.
7. Add mushrooms and artichokes with juice then your sun-dried tomatoes.
8. Heat in the oven at 425 for 30 minutes. Enjoy over pasta,polenta, salad and more!