Texas Green Pea Soup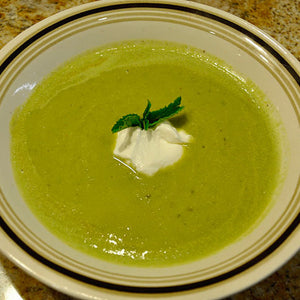 This is comfort food with a Texas KICK!
Ingredients
3 teaspoons olive oil 1 1/2 cups chopped onion 2 1/2 cups chicken stock 3/4 teaspoon dried tarragon salt (to taste) back pepper (to taste) 1 (10oz) bag fresh or frozen peas 3 tablespoons sour cream 3+ tablespoon hot sauce In a large pot, heat onion with olive oil util onion is clear and soft. Add chicken stock, tarragon, salt and black pepper and bring to a boil. Add peas and cook until just boiling. Turn stove off and puree the soup with a hand blender until smooth. Gently whisk in sour cream then hot sauce until smooth. Bring soup to simmer and serve with a dollop of sour cream and enjoy!