Lori's Granola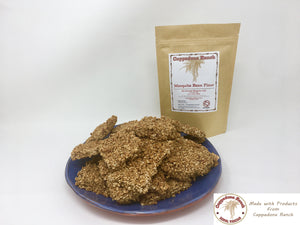 Ingredients:
1 cup chopped roasted almonds
1 cup chopped pecans
3/4 cup sesame seeds (May substitute flax seeds)
2/3 cup oat bran
5 1/2 cups quick oats
1/2 cup Cappadona Ranch Mesquite Bean Flour
1 teaspoon sea salt
1/2 teaspoon cinnamon
1 cup maple syrup
1/2 cup agave nectar (May substitute honey)
1/2 cup oil (I use all of olive oil)
1 teaspoon vanilla
Directions: 
Preheat oven to 300°F.  In a large bowl, combine dry ingredients.  In a separate bowl, mix wet ingredients together and then combine with the dry mix.  Spread mixture out onto two large 1-inch deep baking pans. Bake for approximately one hour, turning mixture every 20 minutes. Look for a light golden color to signal when it is done.  Cool to room temperature and store in an airtight container. 
Variations:
Try different nut combinations.
Add sunflower and/or pumpkinseeds.
Use prickly pear or mesquite syrup in place of maple syrup.
Add dried fruits, coconut, dried in candied citrus peels, cocoa nibs or chocolate chips to baked mixture. 
This makes about 10 cups of granola.
By Lori Adkinson in EAT MESQUITE a cookbook by Desert Harvesters