Chicken in Salsa with Yucca Petals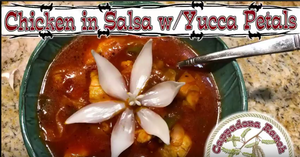 Yield: 6-8 Servings
Ingredients:
1/4 cup olive oil
3 chicken breast chopped
3 TBS Season All
Half Onion Chopped
2 green peppers chopped
3-4 cups yucca petals
1/2 tsp ground cumin
1 tsp garlic powder
1 bay leaf
1 tbs oregano
1/4 tsp ground oregano
2 TBS Chicken Bouillon powder
2 - 10oz can of tomato sauce
1 10oz can Rotel tomatoes and Green Chilli
3 cups water
Salt and Pepper to taste
Directions:
In a large pan add olive oil, chicken with season-all over medium to high heat until done. Set the chicken aside leaving the oil and juices from chicken.
Add onion, green pepper, yucca petals and the rest of the seasoning until tender about 10 minutes on medium heat. 
Then add tomato sauce, Rotel, water and salt and pepper. Bring to a boil and simmer on low 10 minutes. Enjoy.
Liquid error (layout/theme line 222): Could not find asset snippets/spurit_uev-theme-snippet.liquid