Cheese Danish with Mesquite Bean Jelly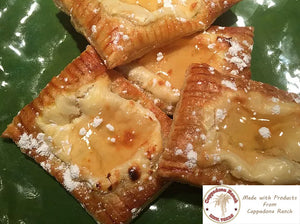 Ingredients
16 ounces cream cheese, at room temperature
¼ cup sugar
2 teaspoon vanilla extract
2 teaspoon lemon zest
2 puff pastry sheet, thawed
1 egg
Cappadona Ranch Mesquite Bean Jelly

 

Instructions
1. Line a large rimmed baking sheet with parchment paper.
2. Mix the cream cheese, sugar, vanilla and zest together.
3.  Roll each pastry to 12 x 9 inches. Cut it into six 4½ by 4-inch pieces - cut it long ways down the center then cut each half into 3 pieces over a light floured surface.
4. Transfer them to a pastry sheet spacing them an inch apart. Use a fork to prick a ½-inch border around each one then prick the inside a few times.
5. Beat the egg with a tablespoon of water and brush the border with it.
6. Spoon 2 rounded tablespoons of the cream cheese into the center of each one and spread it out leaving the border plain.
7.  Cover them with plastic wrap and refrigerate the baking sheet 20 minutes.
8. Meanwhile preheat the oven to 425 degrees F.
9. Bake the pastries 15 - 16 minutes or until golden brown and puffy around the edges.
10.  Remove from the oven and spoon a tablespoon of Cappadona Ranch Mesquite Bean Jelly with or without Chilli Pequin into the center of each one..
11.  Serve warm or cooled. These are best eaten fresh or within 24 hours. ENJOY!