Rio Grande Beef Stroganoff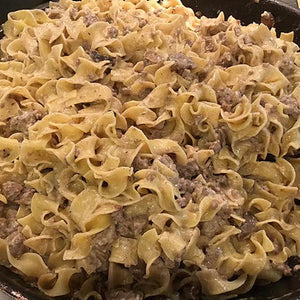 This is a family favorite! It's simple, quick and delicious.

Ingredients
2  (12 ounce) package egg noodles
1/2 cup chopped onion
1 TSP minced garlic
2 or 2.5 pound ground beef
4 TBS Season All
2 (10.75 ounce) can cream of mushroom soup
2 (6 ounce) sliced mushrooms from jar with liquid
1 1/2 cup sour cream
salt and pepper to taste



Directions
Prepare the egg noodles according to package directions and set aside.
In a separate large skillet over medium heat and sauté the ground beef, onion and garlic over medium heat for 5 to 10 minutes, or until browned. Drain the fat and add the soup and mushrooms. Simmer for 10 minutes, stirring occasionally.
Remove from heat and combine the meat mixture with the egg noodles. Add sour cream. Stir well and add salt and pepper to taste. ENJOY!