Father's Day Facts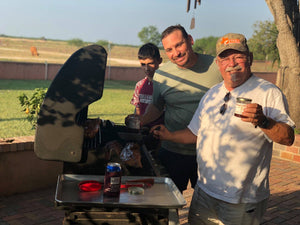 On Sunday, June 20th, dads across the United States will be showered with neckties, tool sets, and gift cards as we celebrate Father's Day. Though it's something we can count on celebrating every time the third Sunday in June rolls around, the holiday didn't start off with funny memes, dad jokes and backyard bar-b-cues. A perfect gift idea is to kick dad's taste buds into high gear by adding a few scoops of our Mesquite Bean Chllii Pequin jelly to dad's favorite bbq sauce — HEAVEN!
Here are a few Father's Day facts to share with dad:
1. THE FIRST MODERN FATHER'S DAY WAS ROOTED IN TRAGEDY.
On July 5, 1908—the same year that Mother's Day is credited as beginning—a small church in West Virginia meant to specifically honor the fathers of their community. The day was held in remembrance of the 362 men who were killed the previous December in a mining explosion at the Fairmont Coal Company. Though this specific day did not transform into an annual tradition in the town, it did set a precedent of reserving a day for dads everywhere.
2. WASHINGTON WAS THE FIRST STATE TO CELEBRATE FATHER'S DAY.
In 1909, Spokane resident Sonora Smart Dodd was listening to a Mother's Day sermon at her local church when she had the idea to try and establish a similar day to honor the hard-working fathers of the community. Dodd was the daughter of a widower and Civil War veteran named William Jackson Smart, who raised six children on his own after his wife died during childbirth.
She contacted local church groups, government officials, YMCAs, businesses, and other official entities, hoping to gather the community in unison to recognize fathers around the state of Washington. The campaign Dodd embarked upon would eventually culminate in the first statewide Father's Day in 1910.
3. THAT FATHER'S DAY TAKES PLACE ON THE THIRD SUNDAY IN JUNE JUST HAPPENED BY ACCIDENT.
While Father's Day always takes place on the third Sunday of June now, that date was actually a compromise after the original turned out to be unrealistic. Dodd's goal was for the holiday to be observed on June 5 to land on her dad's birthday, but when the mayor of Spokane and local churches asked for more time to prepare for all the festivities involved, it was moved to the third Sunday in June where it remains today. Officially, the first Father's Day celebration took place on June 19, 1910.
4. ROSES WERE ORIGINALLY A BIG PART OF THE FATHER'S DAY CELEBRATION.
That first Father's Day included a church service where daughters would hand red roses to their fathers during the mass. The roses were also pinned onto the clothing of children to further honor their fathers—red roses for a still-living father and a white rose for the deceased. This gave birth to the now-nearly-forgotten tradition of roses as the traditional Father's Day flower. 
5. NOT EVERYONE WAS HAPPY WITH THE IDEA OF MAKING MOTHER'S DAY AND FATHER'S DAY SEPARATE HOLIDAYS.
In the 1920s and '30s, there was a movement to get rid of Mother's Day and the burgeoning Father's Day celebrations and instead join the two holidays as a unified Parents' Day. Robert Spero, a philanthropist and children's radio entertainer, viewed the holidays as a "division of respect and affection" for parents, especially during a time when Father's Day hadn't officially been supported nationwide yet.
"We should all have love for dad and mother every day, but Parents' Day on the second Sunday in May is a reminder that both parents should be loved and respected together," Spero told the New York Times in 1931. The movement died out in the '40s, but if it had gone through, we'd all be celebrating Parents' Day every year with the slogan, "A kiss for mother, a hug for dad."
6. FATHER'S DAY WASN'T OFFICIALLY RECOGNIZED AS A NATIONAL HOLIDAY UNTIL 1972.
It took until 1966 for President Lyndon Johnson to make a nationwide proclamation endorsing Father's Day across the country.  Johnson wrote that on June 19, 1966, "I invite State and local governments to cooperate in the observance of that day; and I urge all our people to give public and private expression to the love and gratitude which they bear for their fathers."
Nowhere in Johnson's proclamation did it say anything about what would happen on Father's Day the next year, though, and the corresponding Joint Resolution specified "the third Sunday in June of 1966.". It wasn't until President Richard Nixon signed Public Las 92-278 that Father's Day was permanently recognized by the federal government.
In loving memory of our dad, we don't just miss him on Father's Day, we miss him every day. As the Irish often say, death leaves a heartache no one can heal, but love leaves a memory no one can steal.