Cappadona Ranch is a Proud Partner of Nonprofit Desert Harvesters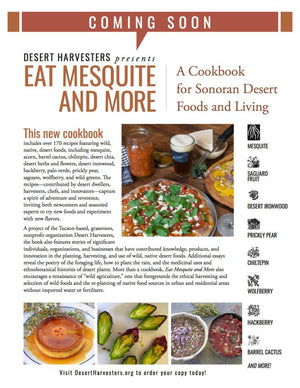 When you think of the word "mesquite," you might just think of that deliciously sweet and smoky flavor that is entrenched within every inch of succulent, tender, barbecue sauce-glazed short ribs us Texans have perfected.
Others may think of the strong wood, also known as Texas ironwood, which is known for making sturdy boats, porches, or fence posts.
But did you know that mesquite beans can be a powerful ingredient in your cooking arsenal?
At the Cappadona Ranch, not only do we aim to bring our products to tables all across the U.S., we also love partnering with organizations like the amazing nonprofit Desert Harvesters.
Fighting For a Better Tomorrow
The Desert Harvesters organization is a special collective that promotes a unique goal that we here at Cappadona Ranch can surely get behind. The primary goal of Desert Harvesters is "to promote and enhance the awareness and use of locally native food sources, which can thrive on harvested natural rainfall and runoff without additional irrigation contributing to unsustainable groundwater depletion".
This truly incredible team is pulling double duties, hoping to reconnect their community with the land in order to build a more dynamic and sustainable environment.
A Bit of History
This grassroots nonprofit is based in Tucson, Arizona, where local perennial plants include foothills palo verde, prickly pear cactus, barrel cactus - and of course our favorite tree - mesquite. It is because of their love for developing a reciprocal relationship between the native plants, land, and people that we here at Cappadona Ranch are exceedingly happy to be associated with these amazing people.
The group has been working diligently since 1996 (that's over 20 years!) in organizing community wide native tree-planting events. If that isn't surprising and spectacular enough, Desert Harvesters have helped to plant over 1,400 trees so far (and counting).
In 2003, the group took their next big step and purchased a Meadows Mills #5 hammer mill which allowed them to move into the next phase of their goal. They began grinding mesquite pods (yummy) into flour in order to provide locals with a delicious, nutritious, and fresh food option.
To get even more communities involved, Desert Harvesters has begun to travel all across southern Arizona for public millings. They also do cooking demonstrations, guided harvests, workshops and more.
How Desert Harvesters Get Their Message Across
Desert Harvesters are indeed a busy bunch who are making stupendous gains promoting a better way of life that protects our beautiful land and gives us amazing food.
In order to spread their message the organization is involved in several different activities and functions including:
Planting indigenous food-bearing plants close to water-harvesting earthworks or rain gardens to maintain groundwater and above-water reservoirs.
Educate the public on the harvesting and processing of mesquite pods.
Conducting guided harvests.
Providing milling services to other entities.
Annual mesquite milling and wild foods event.
Conducting workshops and public talks related to safe harvesting and responsibility.
Wild food demonstrations.
Consultation services.
Join Cappadona Ranch in supporting Desert Harvesters today!
Are you ready to start your journey to delectable delights? Then pre-order a copy of Desert Harvester's cookbook "Eat Mesquite and More: A Cookbook for Sonoran Desert Foods and Living" which includes a number of recipes featuring our one-of-a-kind Cappadona Ranch mesquite bean products.
Or if you just want to get your hands (and tastebuds) on some of our delicious "Texas Gold" treats, then contact Cappadona Ranch today at (956) 867-1819 or at info@cappadonaranch.com.