Spain's King & Queen Experience Texas Mesquite Cake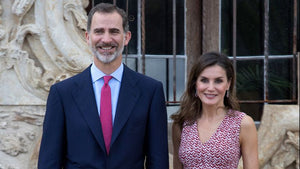 The Spanish king and queen recently enjoyed an eventful two-day excursion to San Antonio where they experienced a taste of South Texas beauty, history, culture - and of course - some savory Texas cuisine.
On Sunday, the royal couple graciously met with San Antonians at the historic Spanish Governor's Palace, where they were presented with a plaque in honor of the city's tricentennial celebration. During their stay in this beloved Texas jewel, the King and Queen enjoyed a private tour of the Mission San Jose, attended the Young Hispanic Leaders Summit, and warmly inaugurated a brand new exhibit at the San Antonio Museum of Art, entitled, "Spain: 500 Years of Spanish Painting from the Museums of Madrid".
However, the highlight of their trip - at least based on our humble opinion here at Cappadona Ranch - was the private dinner they shared with Governor Abbott, city officials, and other invited attendees. While the event was a phenomenal and joyous occasion in itself, we can only imagine the utter excitement the royal couple must have felt when they were served some delectable Texas Mesquite Cake.
                                              This tantalizing treat was the culmination of a four-course meal that included dishes made from "The Three Sisters," sweat meat, pan seared redfish, and a stunning combination of other South West specialties.
The good folks here at Cappadona Ranch faithfully believe that this royal trip to San Antonio is sure to leave a mark on the noble Spanish king and queen. And they will likely pass down the story of when they first tried Texas Mesquite Cake to their children, and their children's children, until it becomes a legend of old. (Or at least we think so!)
Texas mesquite bean products. We know that if they are good enough for the king and queen of Spain, then they are good enough for the great people of Texas!