Make The Holidays Sweeter With Cappadona Ranch Gift Bags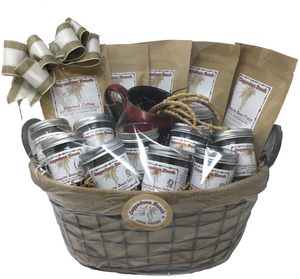 The holiday season is coming in fast and it's time to start planning for those corporate gifts. Why not sweeten up this holiday season for your clients and employees with some Texas cheer that's way tastier than those traditional calendars, stress balls, or coffee mugs.
At Cappadona Ranch, we have just the right Texas gifts to make this holiday season one to remember. Our savory jellies, tea, and coffee are not only tasty but healthy too. Your corporate partners and employees are sure to appreciate our tantalizing gifts bags as much as you appreciate their support.
Make Santa Jealous With Our Double Jelly Gift Bag
Who doesn't love a one-of-a-kind gift? Especially when it's oh-so-delicious. If you really want to add some good ol' Texas flavor to the holidays, our Double Jelly Gift Bag just can't be beaten. Featuring our tantalizing Mesquite Bean Jelly and perfectly zesty Mesquite Bean Jelly with Chilli Pequin, these special Texas gourmet products offer an unbelievable floral aroma, unique wildflower honey flavor, and are the perfect spreads for a number of dishes. Make Santa jealous that he couldn't think of a better gift with our Double Jelly Gift Bag.
It's Beginning To Taste A Lot Like Christmas
There's nothing quite like waking up on a frosty winter morning to a nice, hot cup of Cappadona Ranch's Mesquite Bean Roasted Coffee and flaky croissant smothered in scrumptious Mesquite Bean Jelly. Give your clients and employees these mouthwatering Texas pleasures all season long with our Mesquite Gold Gift Bag. Featuring our all natural Mesquite Bean Roasted Coffee that has just the right amount of kick and rich Texas flavor, as well as two remarkable jars of our organic Mesquite Bean Jelly, this is one gift bag that is sure to become a client favorite. Give the taste of Christmas in Texas to your corporate partners and employees with Cappadona Ranch's Mesquite Gold Gift Bag.
Give The Gift Of Choice
If you want to share the gift of Cappadona Ranch's yummy products but aren't sure where to begin, then why not give the gift of choice with a Cappadona Ranch gift card. Starting at $10, our gift cards are the perfect item for that client who likes to try a little bit of everything. Delivered by email with instructions on how to redeem them at checkout, our gift cards can be applied to any of our tasty Texas products and have no additional processing fees. With so many products to choose from, your employees and clients are sure to enjoy picking their own favorite Cappadona Ranch treat.
Mix-And-Match To Create Your Own Unique Cappadona Ranch Gift
If your business already does gift bags but you're in search of some exclusive Texas-themed items to add to them, then Cappadona Ranch has plenty of delectable products to choose from. From our original Mesquite Bean Jelly to our refreshing Roasted Mesquite Bean Tea, or 100% natural, gluten-free Mesquite Bean Flour, you're sure to find the right item to really give life to your gift baskets.
Contact us
at today at (956) 867-1819 or at
Info@Cappadonaranch.com
for more information about our delicious, one-of-a-kind seasonal gift bags and mesquite bean products.