Cappadona Ranch Celebrates National Teacher Appreciation Day!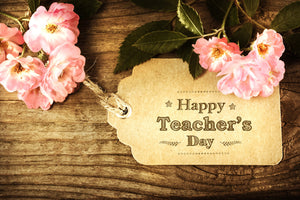 For many of us, a special teacher stands out above the rest; an educator whose influence went beyond the classroom and taught us life lessons.
Here at Cappadona Ranch, we wholeheartedly embrace the celebration of National Teacher Appreciation Day on May 9. This holiday, celebrated here in America on Tuesday of the first full week of May, is part of an entire week dedicated to those who teach and mold our children.
That's why we are offering a special Teacher's Appreciation Double Mesquite Jelly Gift Bag that is guaranteed to get all A's. Cappadona Ranch's Mesquite Bean Jelly makes the perfect treat for the teacher that is always on the go. Whether as a delicious companion to morning toast, a refreshing lunchtime treat or as an afternoon pick-me-up, teachers will feel fully appreciated with this amazing gift.
Some History on National Teacher Appreciation Day
National Teacher Appreciation Day focuses on developing an appreciation for teachers and the contributions they make in our communities and in the lives of our little ones. In other countries, the focus may be on what teachers have contributed to a specific area of study, or center around honoring a prominent or historical educator.
It wasn't until the early 1940s that a teacher by the name of Mattye Whyte Woodridge from Arkansas began to campaign to set aside a day to honor teachers. Ultimately, his correspondence with leaders in politics and education paid off when Eleanor Roosevelt persuaded Congress in 1953 to ensure there would a National Teacher Appreciation Day.
The National Educational Association (NEA) was able, with help from its Kansas and Indiana affiliates, to successfully lobby Congress for another National Teacher Appreciation Day in 1980.
The NEA practiced observing National Teacher Appreciation Day in March until 1985 when a vote by their Representative Assembly changed the national holiday to where it is now celebrated in May.
However, in many foreign countries, National Teacher Appreciation Days are held on a number of different dates.
Some Gift Ideas for National Teacher Appreciation Day
Once you decide that you are going to get something for the teachers in your child's life, you might draw a blank. You might wonder where to start looking or questioning what they might like.
A good place to start is knowing the kind of gifts you should avoid getting. If you're making that kind of list, place mugs at the top. These come across as impersonal and are likely to just be added to others they have gotten before.
Avoiding anything with apples or apple-related items is another good guideline to search by. Like mugs, these gifts don't convey any type of sentiment and are quickly lumped together with similar past gifts and forgotten.
Fortunately for you, Cappadona Ranch has products that are sure to be a bit different from the usual gifts, while also being practical and delicious.
The Teacher's Appreciation Double Jelly Gift bag is one that is specifically targeted for this day. The mesquite bean jelly in this gift is organic and full of flavor and a great, quick option for teachers who don't have much time to stop for very long and eat.
The Mesquite Bean Roasted Coffee and Roasted Mesquite Tea are two excellent options for teachers in need of an energy boost during the day. As additional bonuses, the tea is high in protein and the coffee contains no caffeine. Combined with being organic, these are healthy alternatives to similar drinks.
Celebrate National Teacher Appreciation Day with Cappadona Ranch.
Our teachers help lay the foundation for the education we acquire later in life and help us build the confidence necessary to use what we learn creatively and effectively.
No one understands that better than Cappadona Ranch, where we are constantly trying to take something we know and love so well, and find new ways to share it with others.
Let us share what we've learned with you.
Contact us
at today at (956) 867-1819 or at
Info@Cappadonaranch.com
for more information about our delicious, one-of-a-kind mesquite bean products.