Cappadona Ranch 2018 Recap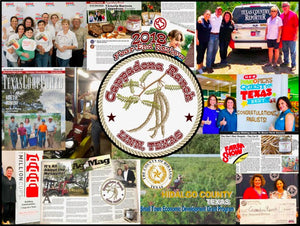 2018 was a banner year for Cappadona Ranch! We met the vast majority of our goals, and while we did face some challenges, we were able to prevail.
Our wonderful company also turned three years old in 2018! As an independent, woman-owned (and now family operated) company, this is a major feat for us since our original goal was simply to create something delicious just for friends and family.
While the majority of our sales in 2017 came from within Texas, now half of our sales are coming in from all over the United States. We are ecstatic to be a part of this Texas Mesquite Revival and are happy to reintroduce to people and customers the uses and benefits of this amazing tree. We love to hear all the positive feedback we get from people after they sample our products and discover what mesquite trees have to offer.
In 2018, we also launched a new website design to give us a fresh new look. New additions to the website now include information on our family's operation, information on Cappadona Beefmasters Cattle, and images of Ranch Life at Cappadona Ranch. If you're new to mesquite bean uses, you can check out our website for some absolutely mouthwatering recipes made with our very own Cappadona Ranch mesquite bean products.
And if you haven't already done so, feel free to join our newsletter to get updates on Cappadona Ranch and Cappadona Beef Masters.
This past year, Jaclyn Cappadona Jackson signed on as our Operations Director, and with her insight on finance and business, was truly an asset and blessing to Cappadona Ranch! Our team worked exceedingly hard in 2018 to grow Cappadona Ranch by applying for a wide variety of grants. We were also honored to speak at a number of local and statewide events about the benefits of mesquite bean products. We had an adventurous year, traveling all around the Rio Grande Valley and even all the way up to Dallas, giving food demonstrations and educational talks about our products.
It was definitely a whirlwind year!
Additional 2018 highlights include:
February
March
April
Presented at 1 Million Cups - McAllen, TX
May
July
Texas Rural Challenge - Top Winner
August
November
Hidalgo County Texas Small Town Economic Development Grant Winner
Purchased hammer mill to mill mesquite into flour
December
Broadcast on Texas Country Reporter locally (nationwide on cable channel RFD-TV)
While we had plenty of victories this year, there were a couple of drawbacks that we had to overcome together as a team and family. One was the heavy rainfall we had in June and August, which kept us from harvesting the mesquite bean supply we needed for the remaining year. This was a very real challenge for us since we received over 40 inches of rain in three months. Though, for the most part, the Rio Grande Valley welcomed the rain, it wasn't ideal for harvesting mesquite beans. On the upside, the rain was very much appreciated by our Beefmasters Cattle and Wildlife.
Sadly, we also lost our biggest fan, and the person who sparked my interest in creating mesquite bean products. My father-in-law and patriarch, Fred J. Cappadona Jr., unexpectedly passed away on November 21, 2018. His laughter and dedication around the ranch and business will truly be missed.
One of Cappadona Ranch's biggest strengths is our family bond, which is especially important when it comes to all the work and multitasking that has to take place in this fast-paced digital age. It takes a village to get things done when both parents are working and there are children that need to be cared for as well. We are fortunate to have loving family members that live close to one another on the ranch and that we are able to call on each other for work or family related issues at a moment's notice.
Life on the ranch for us is a blessing.
Thank you all for an amazing 2018. This would not have been possible without you being a part of our community. All of us here at Cappadona Ranch want to thank you for your support.
Here's to 2019!