A Hidden Treasure in Deep South Texas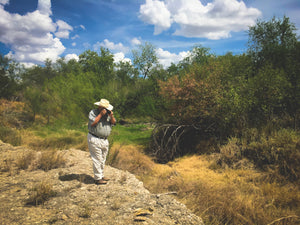 Formed in a land before time when snakes the length of school buses tormented prey and early mammals began to emerge across the face of the earth. Tens of millions of years before mankind would ever take its first steps. It was an era when balmy temperatures and tepid oceans acted as the perfect conduits for thriving forests. Trees flourished all throughout the world, even in polar regions that would eventually transform into frozen tundra.
This was the Eocene Epoch, a geological period which lasted from 56 million to 33.9 million years ago. At this time the Texas Gulf Coast, as we know it today, was still submerged under water. It was a warm ocean swarming with a melody of sea life including early marine mammals, monstrous sharks, eerie fish  - and giant oysters.

Classified as Crassostrea gigantissima, this extinct species of oysters could grow up to 20 inches in length, blooming in number on a rich supply of zooplankton.

Fast forward millions of years and that ancient shoreline has receded, exposing Eocene Age geological formations - including ancient giant oyster beds - throughout stretches of Texas's border region, including the city of Roma.
Tucked Away In A Corner of Texas
A quaint border community with plenty of picturesque views, historic buildings, gorgeous architecture, and a rich culture that draws from its binational roots, Roma has preserved much of its historical feel and glory. As well as many of its natural elements. Just a few miles west of Roma, located south of Highway 650, can be found the 111-acre Arroyo Los Negros Tract and the 668-acre Arroyo Ramirez Tract, two distinct properties with ancient oyster bed sites still present.
Ongoing formation and erosion have uncovered the fossilized oysters, and despite being buried under 30 to 40 feet of clay for millions of years, these ancient shells still shimmer with Mother of Pearl. Forming an almost concrete-like floor to the arroyos around Roma, the ancient oyster beds - alongside a variety of other fossilized seashells - glisten lustrously in the glaring south Texas sun. An aerial view provides the perfect vantage point to take in the natural relic.

It is a glimpse into an alien world different than our own, yet still eerily familiar despite the eternities that have passed. Both the Arroyo Los Negros Tract, purchased from the Meadows Foundation in 1997, and the Arroyo Ramirez Tract, obtained in 2000, require access across private property and are generally not open to the public.

Recognizing the importance of these natural monuments, the Lower Rio Grande Valley National Wildlife Refuge has fought diligently to preserve and sustain these treasures. While access to the locations has been limited, the Lower RGV National Wildlife Refuge has welcomed a number of scientists, scholars, students, and interested citizens dedicated to studying these unique environments. The Lower RGV Wildlife Refuge is capable of making arrangements for visitors to observe these sites with advanced request notice.
Saving the Past and Protecting the Future
In 2007, when construction initially began on segments of the south Texas border wall, there were three sites set to be impacted by the structure, including the Arroyo Los Negro Tract and Arroyo Ramirez Tract. This would have devastated the ancient oyster beds.

However, a moment of reprieve was offered due to concerns from the International Boundary and Water Commission because of flooding management for both the United States and Mexico.

Though that does not mean the sites are completely in the clear. While Starr County, where these fantastic natural monuments lay, is not an immediate priority for the construction of a border fence, there is still an interest in these sites for future infrastructure development. Sadly, another wildlife refuge not far away is set to feel a much more immediate impact.

Traveling down US Highway 83, east of Roma, you'll cross the McAllen metropolitan area and eventually reach Alamo, Texas. Home of the Santa Ana National Wildlife Refuge, a nearly 3-mile segment has gained top priority from the U.S. Customs and Border Protection Agency.

Established in 1943, the Santa Ana National Wildlife Refuge is a 2,088-acre parcel of land known as the "Jewel of the National Wildlife Refuge System". Home to a diverse population of birds, butterflies, and endangered species, the border wall in this refuge will only go to further harm the natural migratory patterns of animals, including creatures such as the ocelot.

Once roaming all across southern Texas, up into Arkansas and Louisiana, loss of habitat has forced this wildcat into the confines of only the most southern tip of Texas.And it faces a new challenge which it may not be able to survive. The construction of 57 miles of border fence in south Texas, coupled with the building of a complete border wall in all remaining areas of Hidalgo County where no fence currently exists, could prove to be an environmental disaster. Erosion. Flooding. Restricted animal migration.
The small portions built have already resulted in the destruction of natural habitats, the creation of excessive garbage, disruptive roads and structures, and damage to the local ecology. And the Mexican-American border is nearly 2,000 miles long. Studies from both sides of the border have revealed the inevitable effects that could occur should the plan for a border wall be put into action. One of Mexico's top universities, the Mexican National Autonomous University, determined that at least 800 species of wildlife would be adversely affected.
A Silent Battle
The story of Roma's ancient oyster beds is a low profile case. A whisper in the multitude of screams and shouts that run amok in the current political world. But it is a fight that has helped to gather many together. It is a battle that has yet to be decided but which will undoubtedly change the destiny of the region forever.


There are many on both sides of the border who wish to promote binational conservation. From the Wildlife Without Borders initiative to the U.S. Fish and Wildlife Service working in unison with Mexico's Commission for Biodiversity, there is still a sense of hope and desire to maintain the land.

Perhaps thousands of years from now these ancient oyster beds in south Texas will remain untouched. And the men of that day will wonder in awe at the echo of eternity that glistens ever so lightly before them. Grateful that those of us in the past that were brave enough to leave a world behind that they too could cherish. Perhaps.
Photo credit: Victoria Cappadona